Program Overview
---
Progress continues on transportation projects in the San Diego region in large part because of TransNet, the county's half-cent sales tax for transportation improvements. TransNet is anticipated to generate billions of dollars over the forty-year life of the measure. SANDAG, and its transportation partners, have created the TransNet Dashboard to keep the public informed on the status of TransNet projects. The TransNet Dashboard is also used as a project and program management tool. The TransNet Dashboard provides up-to-date schedule, budget, expenditure, and funding information.
The TransNet Dashboard is divided into three main viewing sections. Data can be observed at the program, corridor, or project segment level by clicking on the appropriate drop-down list. Within these views, snapshot, cashflow, schedule, and budget data are available. The stoplight and gauges provide quick budget and schedule status at a glance.
TransNet funds are used to leverage project funding from other sources. Expenditures of all private, local, state, federal and TransNet funding are tracked from project inception and included here on the Dashboard.
Map
---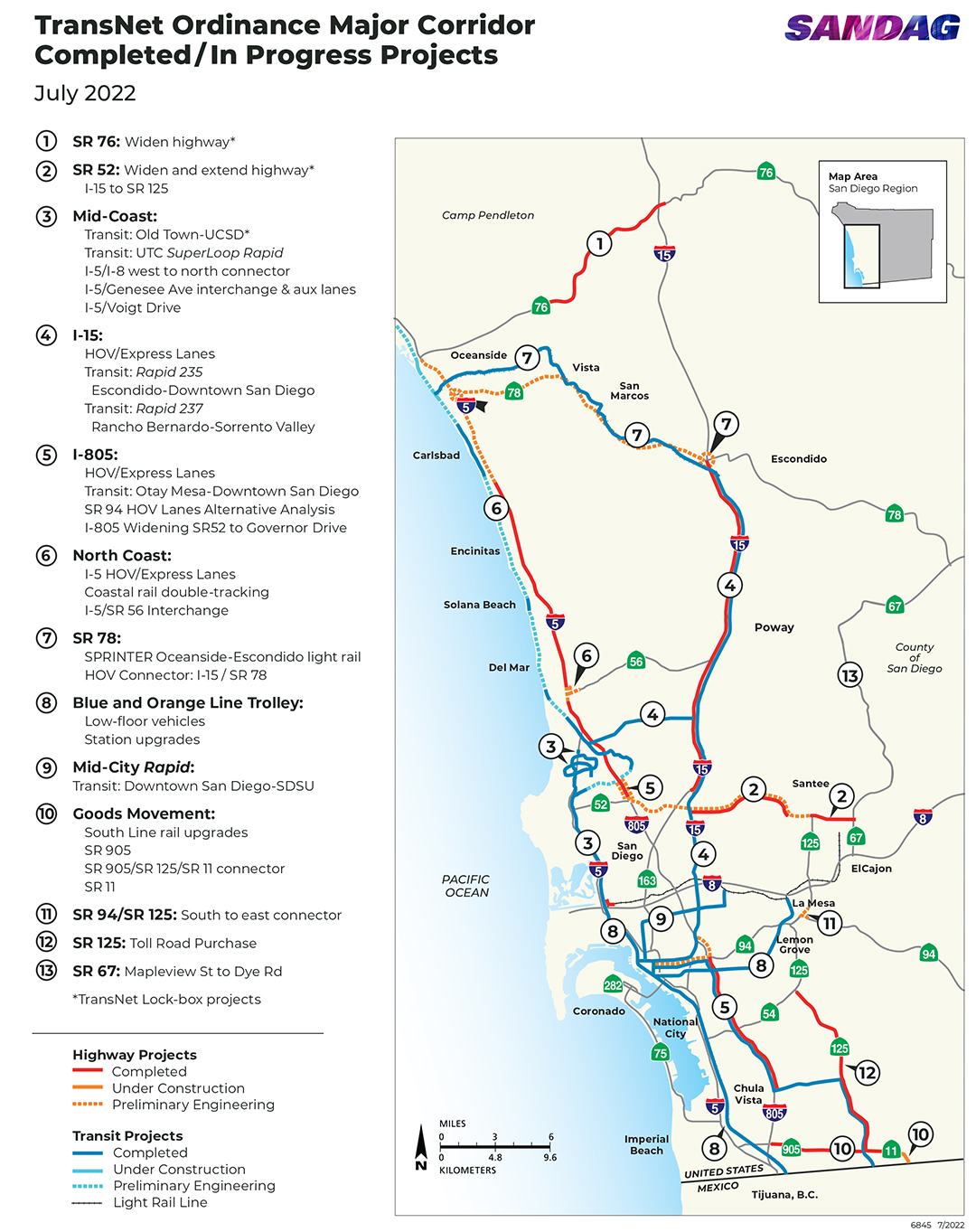 Project List
---
| Corridor | Completed | In-Progress | Future Project |
| --- | --- | --- | --- |
| I-15 Express Lanes | ✓ | | |
| I-15 BRT | ✓ | | |
| Mira Mesa BRT | ✓ | | |
| SR 52 Extension | ✓ | | |
| SR 76 Widening | ✓ | | |
| SR 125 Southbay Expressway Acquisition | ✓ | | |
| I-805/SR 54 Interchange | ✓ | | |
| MidCity BRT | ✓ | | |
| South Bay Rapid | ✓ | | |
| Orange Line Trolley Modernization | ✓ | | |
| Blue Line Trolley Modernization | ✓ | | |
| Superloop | ✓ | | |
| I-5 Express Lanes (North Coast Corridor) | | ✓ | |
| I-805 Express Lanes (SR 905 to SR 54) | | ✓ | |
| I-805 Express Lanes (SR 54 to SR 163) | | ✓ | |
| I-805 Express Lanes (SR 163 to Merge) | | ✓ | |
| Border Access Improvements | | ✓ | |
| COASTER Double Tracking | | ✓ | |
| Mid-Coast Trolley Extension | | ✓ | |
| SR 52 Express Lanes (SR 125 to I-15) | | ✓ | |
| SR 67 Widening | | ✓ | |
| SR 78 Express Lanes and Connectors | | ✓ | |
| SR 94/SR 125 Connector | | ✓ | |
| SPRINTER | | ✓ | |
| I-5 South Express Lanes (SR 905 to I-15) | | | ✓ |
| I-5 Express Lanes (I-8 to Merge) | | | ✓ |
| I-8 Widening (2nd to Los Coches) | | | ✓ |
| I-5/I-805 HOV Connectors | | | ✓ |
| I-15 Express Lanes (SR 94 to I-8) | | | ✓ |
| I-805 Express Lanes (Mission Valley Viaduct) | | | ✓ |
| I-125 Express Lanes | | | ✓ |
| SR 54 Express Lanes | | | ✓ |
| SR 56 Widening and Connectors | | | ✓ |
| SR 94 (I-5 to I-805) and Connectors | | | ✓ |
| SR 94 (I-805 to SR 125) | | | ✓ |
| BRT Service from San Diego to Sorrento Mesa | | | ✓ |
| Coronado Tunnel | | | ✓ |